01.08.2016 | Original Paper | Ausgabe 8/2016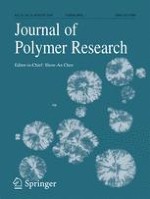 New potassium sodium niobate/poly(vinylidene fluoride) functional composite films with high dielectric permittivity
Zeitschrift:
Autoren:

Jiaqi Lin, Gaoru Chen, Wenlong Yang, Huan Li, Qingquan Lei
Abstract
New and homogeneous KNN/PVDF functional hybrid films loaded with 2 vol.%, 4 vol.%, 9 vol.%, 21 vol.%, 30 vol.%, and 40 vol.% Na
0.5
K
0.5
NbO
3
(KNN) have been prepared by a solution casting process. The effects of the doping KNN particles on the structure, morphology, and dielectric properties of KNN/PVDF hybrid films were investigated. The introduction of KNN fillers has a remarkable influence on the
α
-,
β
-,
γ
-phase structure and the crystallinity of the polymer matrix. And it is also effective in improving the dielectric performance. A dielectric permittivity as high as 250 is obtained at 10 Hz when the concentration of the KNN filler reaches 30 vol.%, which is 28 times higher than that of the pure PVDF matrix. The conductivity of the hybrid film with 40 vol.% KNN concentrations is lower than 8 × 10
−10
(S cm
−1
) at 10
2
Hz and at room temperature, which shows its excellent insulativity and the potential to be applied into the electronic industry.