2015 | OriginalPaper | Buchkapitel
1. New Types of Air Interface Based on Filter Banks for Spectrum Sharing and Coexistence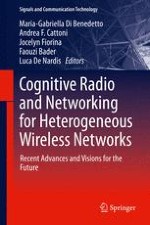 Autoren: Yahia Medjahdi, Didier Le Ruyet, Daniel Roviras, Michel Terré
Abstract
Today, we witness a continuous evolution of applications for wireless communications. In fact, there is a growing interest in the design and the development of cognitive radio technology to overcome the problem of spectrum scarcity resulting from conventional static spectrum allocation. The concept of cognitive radio is based on opportunistic access to the available frequency resources. It offers to future communication systems the ability to dynamically and locally adapt their operating spectrum by selecting it from a wide range of possible frequencies.
Multicarrier techniques are promising and potential candidates offering flexible access to these new spectrum opportunities. Indeed, OFDM, which is the most commonly used multicarrier technique, has been adopted in IEEE 802.22 standard for unlicensed wireless regional area network (WRAN) considering cognitive communications on the unused TV bands. Unfortunately, OFDM presents some weaknesses. In fact, the redundancy, caused by the insertion of the cyclic prefix mandatory part of the transmitted OFDM symbol, reduces the useful data rate. Furthermore, the poor spectral localization of the OFDM subcarriers due to the large sidelobes induces not only an additional spectral loss but also interference problems with unsynchronized signals. These shortcomings have stimulated the research of an alternative scheme that can overcome these problems. An enhanced physical layer based on the filter bank processing called filter bank-based multicarrier (FBMC) technique has been proposed in various works. In fact, a major improvement in spectrum efficiency and better flexibility for system coexistence can be achieved by FBMC thanks to the use of spectrally well-localized waveforms.
The goal of this chapter is to present a tutorial review of the fundamental theory of FBMC techniques. First, we succinctly explain the general concept of multicarrier transmissions. The advantages and the drawbacks of the classical OFDM are then discussed. Next, we introduce the different schemes of FBMC systems: Filtered MultiTone (FMT), Cosine modulated MultiTone (CMT) and Staggered MultiTone (SMT, also called FBMC-OQAM). Then, we develop theoretical background of the FBMC transmission. Furthermore, the polyphase implementation of the filter bank transceiver and the prototype filter design are reviewed. Finally, we highlight the interest of FBMC spectrum sharing and investigate coexistence issues.