01.09.2018 | Research Paper | Ausgabe 9/2018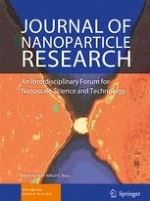 Newly emerging mesoporous strontium hydroxyapatite nanorods: microwave synthesis and relevance as doxorubicin nanocarrier
Zeitschrift:
Autoren:

Shital Agrawal, Madhura Kelkar, Abhijit De, Ajit R. Kulkarni, Mayuri N. Gandhi
Wichtige Hinweise
Electronic supplementary material
Abstract
A new synthesis method is developed for preparation of mesoporous strontium hydroxyapatite (SrHAp) nanorods using CEM Discover microwave synthesizer. Nanorods preparation with surfactants SrHAp(+) and without surfactants SrHAp(−) were successfully achieved at 160 °C temperature and 15 min of hold time. Particle sizes with standard deviation were found to be 67 ± 18 and 69 ± 24 nm respectively. Mesoporous nanorods were thoroughly characterized using different methods, such as Fourier transform infrared spectroscopy (FTIR), X-ray diffraction (XRD), field-emission gun transmission electron microscopy (FEG-TEM), scanning electron microscopy (SEM), Brunauer–Emmett–Teller (BET) surface area and porosity measurement. It was observed that use of trisodium citrate and CTAB resulted in quite agglomerated particles, whereas nanorods synthesized without citrate and CTAB were well dispersed. Cell toxicity of both these materials synthesized was tested in MCF-7 and Zr-75 cell lines using MTT assay. SrHAp nanorods concentration up to 0.25 mg/ml was non-toxic at 48 hours (h) time point in both the cell lines. As SrHAp(−) were found to serve better in terms of cytotoxicity, they were chosen for doxorubicin (Dox) loading, pH depended release and cell uptake study. The successful loading of Dox was ascertained by UV-Visible and FTIR spectroscopy. Entrapment efficiency of Dox in SrHAp nanoparticles was found to be 83.71%, and loading capacity was 0.017 μg Dox per μg SrHAp nanoparticles. Rapid release was observed in the initial hours followed by slow release. Even until 31 days, only 27 and 32% drug was released at pH 7.4 and pH 4.5 respectively, which shows controlled release behavior. Further, cellular uptake of Dox-loaded nanoparticles at different time points was studied in the two breast cancer cell lines by fluorescence imaging. These nanoparticles were found to internalize within both these cells after 3 h of incubation and continued further until 24 h. Overall, high Dox loading efficacy, sustained release behavior, and cell uptake potential render SrHAp nanoparticles to give promising results when applied in vivo and emerge as a robust drug carrier towards solving purpose of slow and prolonged drug release.
×