01.05.2019 | Research Paper | Ausgabe 5/2019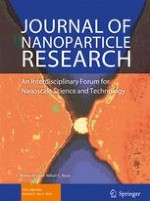 Ni nanoparticles on polyaromatic hyperbranched polymer support as a mild, tunable, and sustainable catalyst for catalytic transfer hydrogenation
Zeitschrift:
Autoren:

S. Basaveni, N. V. Kuchkina, Z. B. Shifrina, M. Pal, M. Rajadurai
Wichtige Hinweise
Electronic supplementary material
Publisher's note
Springer Nature remains neutral with regard to jurisdictional claims in published maps and institutional affiliations.
Abstract
Hyperbranched polyaromatic polymer (HBP) based on pyridylphenylene dendrimer as a multifunctional monomer was employed as a nanoreactor and a stabilizing matrix for synthesis of catalytic Ni nanoparticles (NPs). The HBP was found to have an effective control over NP size. The Ni NPs synthesized in HBP matrix had diameter between 3 and 4.5 nm with narrow size distribution and were reproducible in several batches. The HBP-encapsulated Ni NPs (Ni-HBP) had a good air stability, high activity, and controlled reactivity in catalytic transfer hydrogenation (CTH) of nitroarenes and alkenes. The catalytic reactions were performed under base-free, heterogeneously-catalyzed conditions without use of high pressure, strong acidic media, or highly flammable hydrogen source. This reduction system showed good tolerance towards hydroxyl, alkyne, or halogen substituents. Moreover, due to mild nature of the catalyst, the reaction may be controlled to selectively reduce only one functional group, leaving another one intact (e.g., nitro-group vs internal alkyne).
×