11.05.2018 | Original Paper: Sol-gel and hybrid materials for dielectric, electronic, magnetic and ferroelectric applications | Ausgabe 3/2018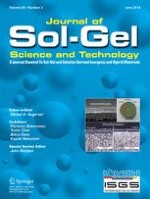 Ni2+-substituted Mg–Cu–Zn ferrites: a colloidal approach of tuning structural and electromagnetic properties
Zeitschrift:
Autoren:

L. M. Thorat, J. Y. Patil, D. Y. Nadargi, U. R. Ghodake, R. C. Kambale, S. S. Suryavanshi
Wichtige Hinweise
Highlights
A traditional and robust synthesis approach (citrate assisted sol-gel process) is adopted to develop Ni2+ substituted MgCuZn ferrimagnetic oxides.

A detailed study of citrate autocombustion process, associated sol-gel reactions, and thereby structural and electromagnetic properties is made

The addition of nickel results in increased aggregation of the colloidal backbone of ferrite and the loss of the mesoporous network structure.

With increasing Ni content, an increase in the activation energy upto x = 0.10), decrease in loss tangent and saturation magnetization, are observed.
Electronic supplementary material
Abstract
A robust synthesis approach to Ni
2+
-substituted Mg
0.25-

x
Ni
x
Cu
0.25
Zn
0.5
Fe
2
O
4
(0 ≤ 
x
 ≤ 0.25 mol.) ferrimagnetic oxides using citrate assisted sol–gel process is reported. The route utilizes simple metal nitrate precursors in aqueous solution, thus eliminating the need for organometallic precursors. Citric acid acts as a fuel for the combustion reaction and forms stable complexes with metal ions preventing the precipitation of hydroxilated compounds to yield the composite ferrite structure by auto-combustion process. The XRD signatures, especially (3 1 1) plane, confirmed the formation of spinel structure. The linear growth of lattice constant from 8.385 to 8.409 Å was observed by Ni
2+
substitution from 0 to 0.25. The dense microstructure is observed with the average grain size of 0.42–2.18 µm. The transport properties revealed the semiconducting behavior of as-prepared ferrite material, with an increase in the DC-electrical resistivity by the incorporation of nickel. The magnetic properties viz. initial permeability (
µ
i
) and magnetic moment (
n
B
) are explained, based on the deviation in saturation magnetization (
M
s
), anisotropy constant (
K
1
)
,
density values, and exchange interactions. Furthermore, the effect of adding Ni
2+
on the Curie temperature, frequency-dependent dielectric properties of the ferrite material are also discussed.
×