2017 | OriginalPaper | Buchkapitel
Nile River Biography and its Journey from Origin to End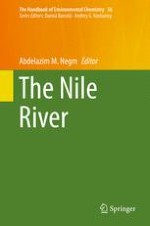 Autor: Nader Noureldeen Mohamed
Abstract
The Nile Basin covers an area of 3.18 million km2, nearly 10 % of the African continent, and is shared by 11 countries. The Nile Basin can be divided into two subbasins: The first is the Eastern Nile subbasin or Ethiopian Highland which is considered as the main resource of the Nile water, sharing 85 % of the total Nile water. It is characterized by seasonal steady flow during the summer and autumn months (June–November). The second subbasin is the Great Equatorial lakes which shares only 15 % but with steady flow over the year. From Jinja in Uganda, the White Nile emerges from Lake Victoria and is thusly named the "Victoria Upper Nile." It travels northward toward Lake Kyoga and then through the Victoria Lower Nile to reach the lake of Albert. The river reemerges from Lake Albert as the Albert Nile and journeys northward to the Nimule; the first city in the South Sudan to carry a new name of Bahr el Jebel flows over the Fula rapids, and then the Nile losses and diapers in the biggest swamp in the world "Sudd" (means a "wall or block" in Arabic language) because of the very small gradient in this area. From Lake "No" at the north end of the Sudd swamp, the river turns eastward and at this point is named the "White Nile"; after a short distance, it receives the stream of Sobat River coming for southwest Ethiopia in their east bank and then continues its northward descent to meet with the Blue Nile at Khartoum, Sudan capital. The Blue Nile originates in Lake Tana in Ethiopia; it is joined by a number of tributaries, the main ones being the Rahad and Dinder, both originating in the border of Ethiopia. From Khartoum the combined rivers of the Nile flow northward and are joined by the Atbara (330 km north of Khartoum, originating in northeast Ethiopian Highlands). The Main Nile continues traveling northward and flows into Lake Nasser/Nubia, a major man-made reservoir on the border between Sudan and Egypt that provides interannual regulation for Egypt. The Nile Basin has several lakes such as Victoria, Kyoga, Albert, George, Edward, and Tana in addition to six cataracts. Six cataracts and Nine dams are distributed through the river. These dams are: Owen, Kiira, Jebal al-Aulia, Khashm el-Girba, Sinnar, Roseires, Grand Ethiopian Renaissance, Tekeze, and the Aswan High Dam. The cataracts were count from Egypt (1) to Sudan (6).
Dams through the Nile River (the reference below the map)
×
×
The Nile Basin is characterized by high climatic diversity and variability, a low percentage of rainfall reaching the main river, and an uneven distribution of its water resources. Climate changes are expected to affect the upper stream Nile by reducing the precipitation by 70 %.