01.12.2012 | Ausgabe 12/2012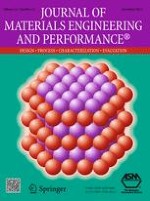 Nitinol Fatigue Life for Variable Strain Amplitude Fatigue
Zeitschrift:
Autoren:

Z. Lin, K. Pike, M. Schlun, A. Zipse, J. Draper
Wichtige Hinweise
This article is an invited paper selected from presentations at the International Conference on Shape Memory and Superelastic Technologies 2011, held November 6-9, 2011, in Hong Kong, China, and has been expanded from the original presentation.
Abstract
Nitinol fatigue testing results are presented for variable strain amplitude cycling. The results indicate that cycles smaller than the constant amplitude fatigue limit may contribute to significant fatigue damage when they occur in a repeating sequence of large and small amplitude cycles. The testing utilized two specimen types: stent-like diamond specimens and Z-shaped wire specimens. The diamond specimens were made from nitinol tubing with stent-like manufacturing processes and the Z-shaped wire specimens were made from heat set nitinol wire. The study explored the hypothesis that duty cycling can have an effect on nitinol fatigue life. Stent-like structures were subjected to different in vivo loadings in order to create more complex strain amplitudes. The main focus in this study was to determine whether a combination of small and large amplitudes causes additional damage that alters the fatigue life of a component.