11.02.2020 | Chemical routes to materials | Ausgabe 14/2020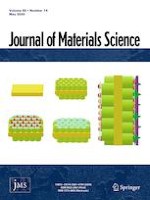 Nitrogen-doped carbon nanofibers with sulfur heteroatoms for improving microwave absorption
Zeitschrift:
Autoren:

Yuliang Jiang, Xueyan Fu, Rui Tian, Wenjin Zhang, Hongyan Du, Chengrui Fu, Zidong Zhang, Peitao Xie, Jiahao Xin, Runhua Fan
Wichtige Hinweise
Electronic supplementary material
Publisher's Note
Springer Nature remains neutral with regard to jurisdictional claims in published maps and institutional affiliations.
Abstract
It is greatly meaningful but remains very challenging to obtain high-performance microwave absorber with thin thickness, lightweight, wide bandwidth, and strong absorption. Here, sulfur-enriched nitrogen-doped carbon nanofibers (S-NCFs) with excellent microwave absorption performance have been constructed through electrospinning technology and heat treatment with sublimed sulfur. Experimental results and the theoretical calculation evidenced that nitrogenous carbon nanofibers doping with sulfur could not only generate a large number of electric dipoles but also favor the promotion of conductivity. Benefiting from the unique architecture and heteroatoms doping that contributed to the well-matched impedance and dielectric enhancement, the S-NCFs exhibited the minimum reflection loss (RL) of − 48.67 dB at 16.1 GHz with a matching thickness of 1.39 mm at a filler loading of as low as 15%. In addition, the samples can obtain the broadest effective absorption bandwidth (EAB, RL < − 10 dB) of 4.90 GHz with the thickness of 1.53 mm. This work provides a facile and efficient approach for fabricating carbon materials as lightweight and highly efficient microwave absorbers.