27.10.2017 | Ausgabe 6/2017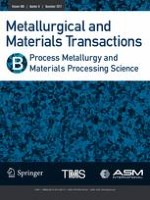 Non-isothermal Crystallization Kinetics of Mold Fluxes for Casting High-Aluminum Steels
Zeitschrift:
Autoren:

Lejun Zhou, Huan Li, Wanlin Wang, Zhaoyang Wu, Jie Yu, Senlin Xie
Wichtige Hinweise
Manuscript submitted April 24, 2017.
Abstract
This paper investigates the crystallization behavior of CaO-SiO2- and CaO-Al2O3-based mold fluxes for casting high-aluminum steels using single hot thermocouple technology, developed kinetic models, and scanning electron microscope. The results showed that the crystallization ability of the typical CaO-SiO2-based Flux A (CaO/SiO2 0.62, Al2O3 2 mass pct) is weaker than that of CaO-Al2O3-based Flux B (CaO/SiO2 4.11, Al2O3 31.9 mass pct) because of its higher initial crystallization temperature. The crystallization kinetics of Flux A was "surface nucleation and growth, interface reaction control" in the overall non-isothermal crystallization process, whereas that of Flux B was "constant nucleation rate, 1-dimensional growth, diffusion control, in the primary crystallization stage, and then transformed into constant nucleation rate, 3-dimensional growth, interface reaction control in the secondary crystallization stage." The energy dispersive spectroscopy results for Flux B suggested that the variations in the crystallization kinetics for Flux B are due to different crystals precipitating in the primary (BaCa2Al8O15) and secondary (CaAl2O4) crystallization periods during the non-isothermal crystallization process.