2008 | OriginalPaper | Buchkapitel
55. Non-Natural Sugar Analogues: Chemical Probes for Metabolic Oligosaccharide Engineering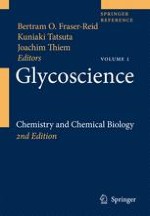 Erstes Kapitel lesen
Autoren: Udayanath Aich, Kevin J. Yarema
Verlag: Springer Berlin Heidelberg
Abstract
Metabolic oligosaccharide engineering (MOE) is a rapidly growing technology emerging from the field of chemical biology that allows novel chemical functionalities to be biosynthetically installed into the carbohydrates of living cells and animals. Since pioneering efforts to modulate sialic acid display through the use of non-natural
N
‑acetyl-
d
‑mannosamine (ManNAc) analogues were reported 15 years ago, monosaccharide probes have been developed to manipulate
N
‑acetyl-
d
‑galactosamine (GalNAc),
N
‑acetyl-
d
‑glucosamine (GlcNAc), and fucose‐containing glycans. The 'first generation' of analogues, comprised of a series of ManNAc derivatives with elongated
N
‑acyl chains, demonstrated pathway permissivity and the ability of this methodology to impinge on biological processes ranging from pathogen binding to gene expression and cell adhesion. Later analogues have incorporated chemical function groups including ketones, azides, thiols, and alkyne not normally found in carbohydrates. These groups serve as 'tags' for the subsequent use of chemoselective ligation reactions to further elaborate the chemical properties of the cell surface and thereby greatly expand the potential of MOE technology to offer control over biological processes.