2006 | OriginalPaper | Buchkapitel
Non-Parametric Large Scale Structural Optimization for Industrial Applications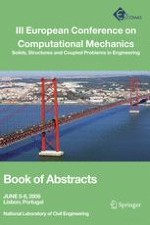 Erstes Kapitel lesen
Autoren: Peter M. Clausen, Claus B. W. Pedersen
Verlag: Springer Netherlands
The optimization problems in the industry, here mainly the automotive industry, are closely related to the current state and capabilities of the CAE-tools in the industry. The user expects that the functionalities of the commercial FE-solvers can be applied directly in the optimization definitions and executions. The FE-models may contain more than a million elements, thus the same number of design variables in e.g. topology optimization.
The aim of this work is primarily to focus on the current and future industrial optimization problems, which are encountered in this context and often overlooked in the academic world. To clarify these problems a general introduction is outlined. Afterwards, several specific examples are shown and discussed. These examples are produced by FE-Design and their industrial partners using the optimization program TOSCA in combination with commercial CAE-software.
The modeling possibilities of today's CAE-environments are numerous and can solve a variety of problems. A standard industrial CAE model often contains different element types (solids, shells, beams, etc.) in an irregular mesh of a geometrically complex structure having sophisticated boundary conditions, such as springs, kinematic couplings and contacts. Normally, such models are difficult to parameterize. Consequently, non-parametric optimization approaches are generally preferred. The present work deals with three kind of non-parametric optimization strategies which are briefly discussed in the following.
Topology optimization is typically used in the early design phase for producing new design suggestions. Topology optimization can include several different constraints imposed on both the static responses and the dynamic responses of the structure. Today, industrial topology optimization often deals with large-scale optimization including more than a million elements.
Shape optimization is often done later in the design process compared to topology optimization. Applying a non-parametric shape optimization approach allows one to deal with arbitrary surfaces and manufacturing constraints because no splines are defined. Shape optimization may also deal with the responses of non-linear implicit or explicit FE-simulations.
Bead optimization has its roots in the deep drawing manufacturing of sheet metal. Again, the nonparametric approach is used, allowing complex geometric structures and advanced shell elements to be utilized.
Several examples of topology, shape and bead optimization for large-scale CAE-models will be shown.