2007 | OriginalPaper | Buchkapitel
24. Noncontact Atomic Force Microscopy and Related Topics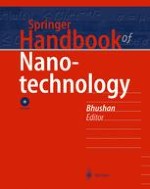 Erstes Kapitel lesen
Autoren: Prof. Franz Giessibl, Prof. Dr. Yasuhiro Sugawara, Prof. Dr. Seizo Morita, Dr. Hirotaka Hosoi, Prof. Kazuhisa Sueoka, Prof. Koichi Mukasa, Dr. Akira Sasahara, Dr. Hiroshi Onishi
Verlag: Springer Berlin Heidelberg
Abstract
Scanning probe microscopy (SPM) methods such as scanning tunneling microscopy (STM) and noncontact atomic force microscopy (NC-AFM) are the basic technologies for nanotechnology and also for future bottom-up processes. In Sect.
24.1
, the principles of AFM such as its operating modes and the NC-AFM frequency-modulation method are fully explained. Then, in Sect.
24.2
, applications of NC-AFM to semiconductors, which make clear its potential in terms of spatial resolution and function, are introduced. Next, in Sect.
24.3
, applications of NC-AFM to insulators such as alkali halides, fluorides and transition-metal oxides are introduced. Lastly, in Sect.
24.4
, applications of NC-AFM to molecules such as carboxylate (RCOO
–
) with R=H, CH
3
, C(CH
3
)
3
and CF
3
are introduced. Thus, NC-AFM can observe atoms and molecules on various kinds of surfaces such as semiconductors, insulators and metal oxides with atomic or molecular resolution. These sections are essential to understand the state of the art and future possibilities for NC-AFM, which is the second generation of atom/molecule technology.