2019 | OriginalPaper | Buchkapitel
5. Nonlinear Hybrid Precoding for Massive MIMO with Fractional Frequency Reuse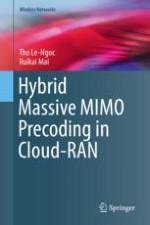 Erstes Kapitel lesen
Autoren: Tho Le-Ngoc, Ruikai Mai
Abstract
In this chapter, we shift our focus from the point-to-point massive multiple-input multiple-output (MIMO) as considered in Chaps.
3
and
4
to the massive MIMO broadcast channel. Although low-complexity linear precoding schemes such as zero forcing (ZF) and regularized ZF (RZF) work sufficiently well in the presence of user diversity (Yoo and Goldsmith, IEEE J. Sel. Areas Commun. 24(3):528–541, 2006), they nonetheless tend to suffer severe power loss in a homogeneous multi-user environment, where the users experience similar channel conditions and require an equal-rate performance. This is especially the case when the system is almost fully loaded, i.e., the number of users scheduled is near the maximum number of data streams that can be physically supported (Peel et al., IEEE Trans. Commun. 53(1):195–202, 2005). In Chap.
2
, it was mentioned that such a phenomenon can be effectively alleviated by vector perturbation (VP), which avoids transmission along the ill-behaving eigen-channel by introducing additional degrees of freedom in the form of an integer perturbation vector (Hochwald et al., IEEE Trans. Commun. 53(3):537–544, 2005).