2014 | OriginalPaper | Buchkapitel
7. Nonparametric Distribution-Free Model Checks for Multivariate Dynamic Regressions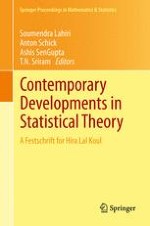 Erstes Kapitel lesen
Autoren: Miguel A. Delgado, J. Carlos Escanciano
Abstract
This article proposes asymptotic distribution-free speci.cation tests for parametric regres-sion models under time series processes with higher conditional moments of unknown form and multivariate regressors. The proposed test statistics are continuous functionals of a Khmaladze-Rossenblatt.s transform of a function-parametric residual marked process. Thus, our results extend those of Koul and Stute (1999) and Khmaladze and Koul (2004) to the multivariate time-series heteroskedastic case. The asymptotic theory is formally established using new weak convergence theorems for function-parametric processes. Finally, we compare the power prop-erties of bootstrap-based tests and our martingale-transform-based Cramér-von Mises test by a limited Monte Carlo experiment. We conclude that our new test compares very well to bootstrap tests for the alternatives considered and that the asymptotic results are good approximations for .nite sample distributions.
_AMS 2000 subject classi.cation. 62M07, 62G09, 62G10.
Key words and phrases. Function-parametric empirical processes, Khmaladze.s transformation, Rosenblatt.s trans-formation, Omnibus tests.