01.08.2013 | Ausgabe 8/2013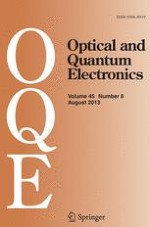 Normal distribution profile for doping concentration in multilayer tunnel junction
Zeitschrift:
Autoren:

Shahram Mohammadnejad, Nima Jouyandeh Abkenar, Ali Bahrami
Abstract
In this paper, the effect of doping concentration and layer thickness on the performance of tunnel junctions (TJs) is studied. We investigate the behavior of single, double and triple layer structures of TJs. Triple layer structure shows better performance in comparison with the other structures and can reach the higher tunneling current besides lower voltage drop. Also, the behavior of the triple layer TJ with different doping concentration profiles is studied. We propose a new normal distribution profile for doping concentration in multilayer TJs which shows better performance in comparison with the linear and graded doping concentration profiles. The higher
\(\upalpha \)
parameters in normal distribution enhance the device performance with increasing the smoothness of doping variations in the center and edge of the TJ. Finally, we examine different thicknesses of triple layer TJ in order to achieve the optimum structure.