01.03.2009 | Original Paper | Ausgabe 3/2009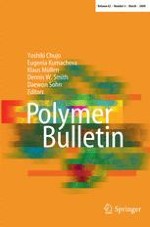 Novel allylic phosphonium salts in free radical accelerated cationic polymerization
Zeitschrift:
Autoren:

Mukesh Kumar Gupta, Raj Pal Singh
Abstract
In the present study, the synthesis and evaluation of novel allylic phosphonium salts as addition fragmentation agents in combination of conventional (photo-/thermal) free radical source for cationic polymerization are described. The amide based allylic phosphonium salts, namely 2-(
N
,
N
-dimethylcaboxy-propenyl) triphenylphosphonium hexafluoroantimonate (
DMTPH
) and 2-(morpholinocarboxy-propenyl) triphenyl phosphonium hexafluoroantimonate (
MTPH
) were synthesized and characterized. The thermal and photo-latency of these salts was examined with and without free radical sources in bulk polymerization of cyclohexene oxide (CHO) salts at 70 °C and
λ
> 290 nm irradiation, respectively. In presence of thermal free radical source, the order of activity was observed as
PAT
>
BPO
>
AIBN
. The order of activity of free radical sources on photopolymerization was found to be
benzoin
>
benzophenone
>
TMDPO
. In addition, photopolymerization of other cationically polymerizable monomers (such as
n
-butyl vinyl ether, isobutyl vinyl ether, N-vinyl carbazole and glycidyl phenyl ether) was also examined at
λ
> 290 nm irradiation. It is concluded that the rate of cationic polymerization can be accelerated using novel phosphonium salts with combination of free radical sources, by both thermal and photochemical mode.