20.03.2019 | Ausgabe 6/2019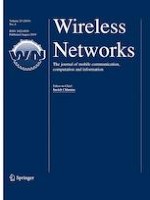 Novel approach of distributed & adaptive trust metrics for MANET
Zeitschrift:
Autoren:

De-gan Zhang, Jin-xin Gao, Xiao-huan Liu, Ting Zhang, De-xin Zhao
Wichtige Hinweise
Publisher's Note
Springer Nature remains neutral with regard to jurisdictional claims in published maps and institutional affiliations.
Abstract
It is known to all that mobile ad hoc network (MANET) is more vulnerable to all sorts of malicious attacks which affects the reliability of data transmission because the network has the characteristics of wireless, multi-hop, etc. We put forward novel approach of distributed & adaptive trust metrics for MANET in this paper. Firstly, the method calculates the communication trust by using the number of data packets between nodes, and predicts the trust based on the trend of this value, and calculates the comprehensive trust by considering the history trust with the predict value; then calculates the energy trust based on the residual energy of nodes and the direct trust based on the communication trust and energy trust. Secondly, the method calculates the recommendation trust based on the recommendation reliability and the recommendation familiarity; adopts the adaptive weighting, and calculates the integrate direct trust by considering the direct trust with recommendation trust. Thirdly, according to the integrate direct trust, considering the factor of trust propagation distance, the indirect trust between nodes is calculated. The feature of the proposed method is its ability to discover malicious nodes which can partition the network by falsely reporting other nodes as misbehaving and then proceeds to protect the network. Simulation experiments and tests of the practical applications of MANET show that the proposed approach can effectively avoid the attacks of malicious nodes, besides, the calculated direct trust and indirect trust about normal nodes are more conformable to the actual situation.