14.04.2020 | Original Research | Ausgabe 9/2020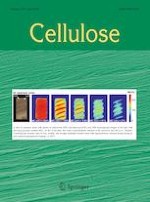 Novel chemically cross-linked chitosan-cellulose based ionogel with self-healability, high ionic conductivity, and high thermo-mechanical stability
Zeitschrift:
Autoren:

Zihao Wang, Jiahang Liu, Jianxin Zhang, Shuai Hao, Xiaoli Duan, Hongzan Song, Jun Zhang
Wichtige Hinweise
Electronic supplementary material
Publisher's Note
Springer Nature remains neutral with regard to jurisdictional claims in published maps and institutional affiliations.
Abstract
Developing flexible electrochemical devices with high-performance electrolytes by using natural renewable polymer is of great significance for meeting green and sustainable energy requirements. Here, a new type of chemically cross-linked ionogel based on natural chitosan and cellulose with good self-healability has been designed by a two-step method in ionic liquid. The rheological and dynamic mechanical analysis tests revealed that the as-prepared ionogel exhibited excellent thermo-mechanical stability even when the temperature was as high as 150 °C. Furthermore, the obtained ionogels showed good frost resistance, and still could maintain excellent flexibility even when the temperature was as low as − 20 °C. More importantly, the ionogel showed superior room temperature ionic conductivity (up to 2.1 mS/cm) and retained high electrical performance over a temperature range from − 50 to 120 °C. Additionally, the ionogel was used as electrolyte for preparing flexible supercapacitors and showed good performance under high temperature and harsh mechanical conditions. Such an ionogel, based on natural polymers with robust mechanical properties, high ionic conductivity, self-healability, and wide working temperature range, could be very useful for next-generation sustainable electrochemical devices.
Graphic abstract
×