Erschienen in: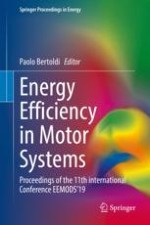 2021 | OriginalPaper | Buchkapitel
Novel Design of Delta-Connected PM Synchronous Machines Considering Rotor Skewing
Abstract
In the design process of electrical machines – especially those with challenging performance requirements like traction motors – an individual adaption of the number of turns per phase plays an important role. Choosing a delta-connected winding instead of a Y-connection gives an additional degree of freedom in design. This can be of special importance in case of hairpin windings with their tightly restricted choice of the number of conductors per slot, as it allows to find a better match of flux, rated speed, and given voltage level. Although delta-connected windings are common in low voltage industrial applications, they are still underrepresented in traction applications. This chapter presents the most suitable design options for delta-connected PM synchronous machines and discusses their performance and efficiency in traction applications. Moreover, a new calculation method for a skewed rotor is presented. Instead of FEM calculations of several rotor slices, just one slice needs to be calculated by FEM. The flux density in all other slices is then derived from this result analytically.