16.10.2018 | Ausgabe 4/2019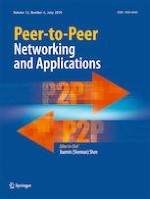 Novel energy-efficient secure routing protocol for wireless sensor networks with Mobile sink
Zeitschrift:
Autoren:

V. Kavidha, S. Ananthakumaran
Wichtige Hinweise
Publisher's Note
Springer Nature remains neutral with regard to jurisdictional claims in published maps and institutional affiliations.
Abstract
The energy consumption and the Quality of Service (QoS) are the major concern in Wireless Sensor Network (WSN). Dissimilar sensor nodes in the heterogeneous network are the efficient network strategy. Since it has some capabilities like enhanced processing ability, additional memory power and distant transmission ability. For effective clustering and route formation among the pair of nodes, an efficient Enhanced Fuzzy C means and Adaptive TDMA Scheduling (ECATS) method is proposed as a protocol to facilitate communication within the network. So that data packets can be delivered within time to the mobile sink. Here introducing the novel protocol named as Neural Elliptic Galois (NEG) cryptography for efficient data security. Also, the location privacy (Threshold fault node detection) is taken in to account for better security. Cluster head (CH) selection is done on the basis of energy to manage the data aggregation among a number of nodes in the network. Here, hybridization of TDMA based Ant Lion Optimization scheduling is introduced for optimal CH selection is used for better energy efficiency. Finally, ECATS can be done with optimized WSN performance metrics such as packet delivery ratio, throughput, minimum energy consumptions, communication overheads & end to end delay. Thus, we can increase the reliability of the network while minimizing the energy consumption and the results are compared with few existing routing protocols using MATLAB simulation tool.