17.05.2018 | Original Paper: Nano-structured materials (particles, fibers, colloids, composites, etc.) | Ausgabe 3/2018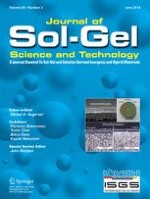 Novel La-doped Bi2WO6 photocatalysts with enhanced visible-light photocatalytic activity
Zeitschrift:
Autoren:

Fengjun Zhang, Rui Sun, Risheng Li, Ningning Song, Limin Feng, Shuang Zhong, Zhiqing Zhao
Wichtige Hinweise
Highlights
Novel La-Bi2WO6 photocatalyst was synthesized via a facile solvothermal method.

The La-Bi2WO6 composites exhibited high photocatalytic activity against tetracycline hydrochloride.

The as-prepared nanoparticles La-Bi2WO6 shows higher optical absorption in the visible-light region than pure Bi2WO6.

The La-Bi2WO6 photocatalyst maintained high catalytic activity over four cycles.
Abstract
Novel La-doped Bi2WO6 composites were successfully prepared via a facile solvothermal method and well characterized by X-ray diffraction, Brunner−Emmet−Teller measurements, scanning electron microscopy, transmission electron microscopy/high-resolution, energy dispersive spectrometry, X-ray photoelectron spectroscopy, ultraviolet–visible spectroscopy, and Fourier transform infrared spectroscopy. The photocatalytic activity of modified catalysts was evaluated by degrading tetracycline hydrochloride under visible light (450 W Xe lamp irradiation). It was found 5%La-Bi2WO6 had the highest light-absorption ability, great morphology, and microstructures. The La dopant enlarged surface area and increased crystal defects, which may enhance the optical absorption activity and inhibit the recombination of the photo-generated charge carrier, respectively. After 150 min illumination, the photocatalysts that 5%La-Bi2WO6 and pure Bi2WO6 exhibited the best and worst photocatalytic performance, respectively (96.25% vs. 88.92%).
×