2022 | OriginalPaper | Buchkapitel
13. Nucleosides, Nucleotides, Polynucleotides (RNA and DNA) and the Genetic Code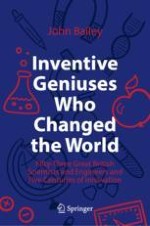 Erstes Kapitel lesen
Autor: John Bailey
Abstract
Scientific luminaries wanted to know more about the chemistry of bio-significant substances, as well as the chemical processes that facilitate the movement, growth, self-repair, and reproduction of organisms. Todd, Crick and Sanger were major contributors in achieving this goal.
Alexander Todd studied the chemistry of a range of natural products of biological importance. He was a colossus of twentieth century organic chemistry, having an encyclopaedic knowledge of the subject and an ability to picture complex molecules in 3-dimensions.
Although not the first to synthesize the anti-beriberi vitamin, B1, his elegant laboratory method was adopted for commercial production. By a series of either chemical syntheses, or, degradation sequences of great delicacy and subtlety, he established the structure of nucleosides, nucleotides, and nucleotide coenzymes, for which he was awarded the Nobel Prize in Chemistry, in 1957. His results paved the way for Crick and Watson to propose a double helix structure for DNA.
Francis Crick had a broad education, leading to a degree in physics, a studentship to research cytoplasm and a doctoral degree in protein structure using X-ray crystallography. Few scientists have had such a huge impact on their adopted field of study.
James Watson, who had a background in viral and bacterial genetics joined Crick at the Medical Research Council Unit, in 1951. Initially, they drew on the chemical and X-ray results of other researchers to advance their view that DNA comprises two polynucleotide chains, wound about each other, to form a double helix. Their 1-page paper in Nature, in 1957, set the stage for major advances in molecular biology. They had found 'the secret of life'.
DNA is the 'master molecule of life', the repository of heredity information. It encodes all genetic information and is the blueprint from which biological life is created. This "operating manual" contains instructions for everything our cells do, from conception until death. It can self-duplicate, bringing about new DNA molecules that are identical to the original. Genetic information is stored and transmitted in a simple language with an alphabet of only four letters, based on nucleobases A, G, T and C.
Crick, Watson, and others postulated that messenger RNA takes instructions from the DNA, in the nucleus, to a host of ribosomes in the cytoplasm, where protein synthesis takes place. Here, only three of the four letters of the genetic alphabet are needed to determine the composition of the many proteins synthesized from the amino acids available. In 1962, Crick, Watson and Wilkins shared the Nobel Prize in Physiology or Medicine.
Frederick Sanger was raised as a Quaker and had a modest and quiet demeanour. He may not have been academically brilliant, but he was a gifted experimentalist and is one of only four individuals to be awarded two Nobel prizes, his in chemistry (in 1958 and 1980). He was responsible for two critical technical advances. Firstly, he perfected a way of unravelling the complete amino acid sequence of even the most complex of proteins. Using novel sequencing methods, he established the composition of bovine insulin, an essential step for the synthesis of human insulin, offering a major advance in the treatment for diabetes.
Second, he developed yet more ingenious ways of sequencing the nucleotides of DNA, spending ten years, carefully identifying small fragments of this giant molecule. He worked out the precise composition of the entire genome of the bacteriophage ΦX174, a relatively modest life form featuring 5,375 nucleotides.
He sequenced the first human genome in the shape of mitochondrial DNA, laying the foundation of humanity's ability to read and understand the genetic code. Genetic testing can now be used to diagnose inherited disorders. Genome sequencing may revolutionise the diagnosis of rare childhood conditions. The field of genetics has been transformed from a science of descriptive analysis, into today's powerful technology of gene therapy where defective genes are edited to cure disease. This will result in ground-breaking improvements in healthcare.