2006 | OriginalPaper | Buchkapitel
Numerical-experimental methodology for runnability analysis and wind-bridge-vehicle interaction study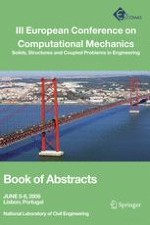 Erstes Kapitel lesen
Autoren: A. Collina, E. Leo, F. Resta, G. Tomasini
Verlag: Springer Netherlands
The analysis of runnability of railway bridges is one of the tasks related to high speed trains since it involves the dynamic response of a bridge crossed by a train. In the proposed paper the runnability analysis has been carried out by means of numerical simulation based on mathematical model of train-track-bridge interaction developed in previous researches in which also the effect of cross wind acting on the train and the bridge is considered. In particular, two long railway bridges on Beijing - Shangai line have been studied. The following topics are mainly involved in the runnability: bridge fatigue resistance, with respect to the dynamic amplification of the structure's stresses; influence of bridge deformations due to the train itself and other moving and stationary train, on train's ride safety and comfort, in particular at bridge extremities; effect of cross wind acting on train and bridge, from the point of view of the train safety; track performances with respect to transmitted forces and structural noise propagation.
In the first part of the work, the runnability study has been developed in absence of cross wind, following the subsequent steps:
first an analysis of the bridge response to constant travelling loads, corresponding to the axle loads, in order to establish the critical speed related to train transit;
then the verification with the full dynamic train model, in correspondence of the found critical speed is carried out;
a more refined modelling is implemented in the bridge, in order to investigate more local problems, such as local behaviour of the bridge deck.
In the second part of the work, un algorithm ([
1
]) that allows to simulate the effects of the cross wind on vehicle and on bridge has been introduced. In particular, first the critical wind curves (CWC), that represent the wind speeds that lead the vehicle to the limit safety conditions, have been evaluated with the train running on a viaduct or a ground, considering a non deformable structure. Then the critical conditions have been verified in the transit of the train on the bridge. In this analysis, the aerodynamic forces on the train are applied dynamically, considering the turbulence of the wind, while the effects of the wind on the bridge are included considering the mean wind speed: in fact, the bridge response is mainly static and the effect of bridge motion due to the effect of turbulent wind is negligible.