2006 | OriginalPaper | Buchkapitel
Numerical investigation of fracture onset in sheet metal forming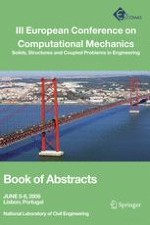 Erstes Kapitel lesen
Autoren: P. Teixeira, F. M. Andrade Pires, A. D. Santos, J. César de Sá
Verlag: Springer Netherlands
Sheet metal forming processes involve finite inelastic strains that are mainly restricted by the occurrence of strain localization and instability due to necking. Therefore the ability to predict the formability limit is of paramount importance in order to optimize the process, examine the influence of each parameter on the necking occurrence and consequently to improve the press performance. Forming limit diagrams, associated with finite element simulations are currently performed by powerful commercial codes. Nevertheless, when complex strain paths are involved these predictions may fail to give the right answer.
Localization is a result of internal degradation described throughout metallographic observations by the nucleation, growth and coalescence of voids and micro-cracks, that may lead to macroscopic failure. The fact that internal degradation (or damage) accompanies large plastic deformation suggests that these two dissipative processes, although different in nature, influence each other and should, therefore, be coupled at the constitutive level. Consequently the theory of Continuum Damage Mechanics (CDM) may provide a better insight to the physical phenomenon and play a significant role in the study of the formability and fracture onset in sheet metal forming processes. In the framework of CDM the damage variable represents, in an average sense, the effect internal degradation which is reflected on the local load carrying capacity of the material and its evaluation may play an important role in the definition of a criterion for predicting localized necking and fracture initiation.
In this work Lemaitre's ductile damage model is implemented in the Abaqus/Explicit code system in order to compare the performance of this coupled approach with the traditional use of forming limit diagrams. These are usually employed as an a posteriori analysis of the finite element solution in which the necking phenomenon is carried out in the framework of Marciniak-Kuczinsky (M-K) analysis coupled with the conventional theory of plasticity. The previous strategies are compared with a set of experimental results of sheet forming of rails with different stamping conditions.