23.12.2015 | Ausgabe 2/2016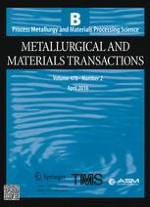 Numerical Investigation on the Impact of Anode Change on Heat Transfer and Fluid Flow in Aluminum Smelting Cells
Zeitschrift:
Autoren:

Qiang Wang, Louis Gosselin, Mario Fafard, Jianping Peng, Baokuan Li
Wichtige Hinweise
Manuscript submitted May 19, 2015.
Abstract
In order to understand the impact of anode change on heat transfer and magnetohydrodynamic flow in aluminum smelting cells, a transient three-dimensional (3D) coupled mathematical model has been developed. The solutions of the mass, momentum, and energy conservation equations were simultaneously implemented by the finite volume method with full coupling of the Joule heating and Lorentz force through solving the electrical potential equation. The volume of fluid approach was employed to describe the two-phase flow. The phase change of molten electrolyte (bath) as well as molten aluminum (metal) was modeled by an enthalpy–based technique, where the mushy zone is treated as a porous medium with a porosity equal to the liquid fraction. The effect of the new anode temperature on recovery time was also analyzed. A reasonable agreement between the test data and simulated results is obtained. The results indicate that the temperature of the bath under cold anodes first decreases reaching the minimal value and rises under the effect of increasing Joule heating, and finally returns to steady state. The colder bath decays the velocity, and the around ledge becomes thicker. The lowest temperature of the bath below new anodes increases from 1118 K to 1143 K (845 °C to 870 °C) with the new anode temperature ranging from 298 K to 498 K (25°C to 225°C), and the recovery time reduces from 22.5 to 20 hours.