2018 | OriginalPaper | Buchkapitel
Numerical Modeling of a Granular Collapse Immersed in a Viscous Fluid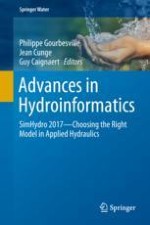 Erstes Kapitel lesen
Autoren: Edouard Izard, Laurent Lacaze, Thomas Bonometti, Annaïg Pedrono
Verlag: Springer Singapore
Abstract
Numerical simulations can help to further understand particles-fluid flows which are encountered in many industrial and natural applications. An immersed boundary and a soft-sphere discrete element methods are coupled to resolve the fluid flow around moving non-deformable particles and to solve the Lagrangian motion of the particles, including grain–grain interactions, respectively. A lubrication force is added to the equation of the grains motion to properly capture rebound interactions in a fluid. An a priori simple configuration of gravity-driven grains-fluid mixture flows, namely, the unsteady collapse of a granular column in an incompressible Newtonian fluid, is investigated by three-dimensional simulations. The scale of the system is
\({\mathcal{O}}\left( {10^{3} } \right)\)
particles. In the present simulations, the collapse dynamics is controlled by the viscous time in agreement with the experimental classification of granular regimes in a fluid proposed by du Pont et al. Phys. Rev. Lett.
90
, 044301 (2003). Good agreement is found with experiments of Rondon et al. Phys. Fluids,
23(7)
, 073301 (2011) regarding the final form of the granular deposit, which may be triangular or trapezoidal depending on aspect ratio and initial packing fraction. In addition, the fluid pressure at the bottom of the granular column, as well as the lengths of the granular deposits, measured in present simulations are in quantitative agreement with experiments. The phenomenon of pore pressure feedback is captured for the first time in simulation results.