01.08.2014 | Technical Note | Ausgabe 5/2014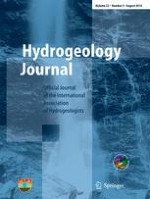 Numerical modeling of Forchheimer flow to a pumping well in a confined aquifer using the strong-form mesh-free method
Zeitschrift:
Autoren:

Zhang Wen, Zhuangtian Liu, Menggui Jin, Hongbin Zhan
Abstract
A numerical analysis of non-Darcian flow to a pumping well in a confined aquifer using the strong-form mesh-free (MFREE) method is described. This technique is targeted at problems that use advanced numerical approaches for modeling non-Darcian flow and it supports the assumption that the non-Darcian flow follows the Forchheimer equation. Interpolation functions including the multi-quadrics (MQ) basis function (containing shape factors
q
and
α
) and the Gaussian (EXP) basis function (with shape factor
ω
) were found to be important defining parameters which had significant influence on the numerical results. A series of numerical experiments revealed that when
q
 = 2 and
α
 = 0.1, the mesh-free method yielded good results and the range of 10
−6
 – 10
−3
might be a good choice for the shape factor
ω
in the EXP basis function. A comparison between the strong-form MFREE method and the finite difference method was done; the results showed that the strong-form MFREE method was very effective for solving non-Darcian flow near a pumping well in a confined aquifer, and was favorable over the finite-difference method, which could undergo oscillation and converging problems at early times.