01.01.2015 | Ausgabe 1/2015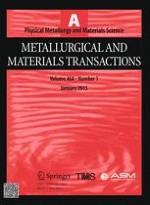 Numerical Simulation of Dendritic Growth of Continuously Cast High Carbon Steel
Zeitschrift:
Autoren:

Weiling Wang, Sen Luo, Miaoyong Zhu
Wichtige Hinweise
Manuscript submitted February 14, 2014.
Abstract
Considering the influence of the latent heat released during the solidification of high carbon liquid steel, a cellular automaton (CA) model coupled with the heat transfer was developed to investigate the growth of equiaxed dendrites which is controlled by the solute diffusion during the continuous casting process. Additionally, the growth of columnar dendrites and primary dendrite arm spacings were predicted and measured. The results show that the CA model is able to describe the growth behavior of equiaxed dendrites, especially at 5 K to 7 K melt undercoolings, and the approach adjusting the cooling medium temperature is reliable to keep the undercooling condition stable for equiaxed dendrites although its hysteresis is reinforced as the pre-set undercooling increases. With the increase of the melt undercooling, the growth of equiaxed dendrites becomes faster, and the thickness of dendritic arms increases slightly, however, the thickness of the diffusion layer in front of dendritic tips keeps constant. The growth of thin and tiny columnar dendrites will be confined due to the competition and absorbed by neighboring strong columnar dendrites, giving rise to the coarsening of columnar dendrites, which is observed both from the experimental observation and the numerical simulation. With the decrease of the cooling intensity, columnar dendrites get sparser, primary dendrite arm spacings increase, and secondary dendritic arms become undeveloped.