2017 | OriginalPaper | Buchkapitel
7. Numerical Simulation of Spilled Oil Drifting with Data Assimilation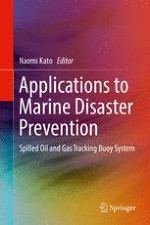 Erstes Kapitel lesen
Autor: Hiroyoshi Suzuki
Verlag: Springer Japan
Abstract
Recently, oil spill accidents from tankers and oil production facilities have been a fairly regular occurrence. When spilled oil drifts to the coast, it destroys the natural environment and ecosystem and inflicts damage on the regional environment. In order to minimize such damages, it is necessary to retrieve the oil from the sea and to place oil control equipment on the coast where the spilled oil is predicted to drift ashore.
As a result, researchers have begun to develop forecasting models of drifting oil. In order to forecast the drifting behavior of spilled oil numerically, ocean and atmospheric models are important. In addition, an oil drifting model that can describe the changing features of the oil should be described. In this research, the Princeton Ocean Model (POM) and Regional Ocean Model System (ROMS) are used as ocean models and the Weather Research and Forecasting (WRF) Model as the atmospheric model to develop an oil drifting model. Meanwhile, the data assimilation (DA) scheme is widely used in the field of weather forecasting, and this scheme is effective in improving the prediction of weather.
Given this, if the DA scheme can be applied to the spilled oil drifting simulation, the accuracy of oil behavior predictions would be improved. The application of the DA scheme to the oil drifting simulation and evaluation of its efficacy are described in this chapter.