2015 | OriginalPaper | Buchkapitel
9. Numerical Simulation of Wave Loading on Static Offshore Structures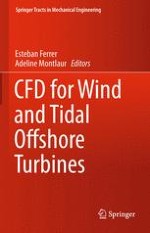 Erstes Kapitel lesen
Autoren: Hrvoje Jasak, Vuko Vukčević, Inno Gatin
Abstract
This chapter presents numerical simulations of water waves using the Finite Volume Method. Wave loads exerted on a truncated circular cylinder are calculated and compared to experimental data.
Mathematical model of two-phase incompressible flow is based on Navier–Stokes equations with Volume-Of-Fluid method for interface capturing. Waves are generated and absorbed using relaxation zones with prescribed potential flow solution. Potential flow and CFD solutions are blended implicitly within governing equations. The novel approach allows stable simulations at higher Courant–Friedrichs–Lewy numbers. The algorithm is described in detail and implemented within OpenFOAM/FOAM-extend in
Naval Hydro
pack.
The method is validated on two test cases, both regarding truncated circular cylinder. The first test case considers maximum regular wave loads with different frequencies and wave heights. The second test case simulates phase focused freak wave and its impact on the cylinder.