26.02.2019 | Original Paper | Ausgabe 4/2019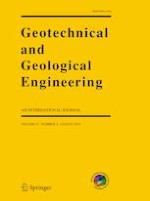 Numerical Simulations on the Low-Pressure Water-Injection-Induced Seepage Rules of Coal with Pre-existing Plane/Surface Fractures
Zeitschrift:
Autoren:

Gang Zhou, Wen-jing Yin, Xing Wei
Wichtige Hinweise
Publisher's Note
Springer Nature remains neutral with regard to jurisdictional claims in published maps and institutional affiliations.
Abstract
In this paper, the effect of complex fractures on the impact of a low-pressure coal seam water injection was investigated by dividing the fractures in the coal into two categories (namely a plane fracture and surface fracture), of which there were eight types. Numerical simulations were then conducted on the water injection process in accordance with the actual extraction conditions. Specifically, the distribution and variation rules of the injection-induced seepage pressure field, velocity field and water increment in the coal following a water injection were simulated on a COMSOL multiphysics simulation platform; a process that was based on the saturated–unsaturated mathematical model. According to the simulation results: the average hydraulic pressure around the fractures was approximately 4.25 Mpa, which was close to the water injection pressure and higher than the average value in the coal (2.82 MPa); the seepage velocity field showed an obvious anisotropy, the seepage velocities in various parts of the coal tended to be identical, and the average seepage velocity after water had been injected for 120 h was approximately 0.17 mm s−1; the single-hole water injection volume reached up to 82.77 m3 in coal with pre-existing fractures, which was 133.38% more than the volume in coal without pre-existing fractures, and the extra amount of water was mainly distributed in the fracture zones with turnings, intersections or perforated water injection holes; and the pre-existing plane fractures were superior to the pre-existing surface fractures with regard to improving the performance of the water injection. Finally, the field monitoring data revealed that a low-pressure coal seam water injection in dynamic-mining-pressure regions can achieve desirable scour prevention and dust suppression results.