18.07.2017 | Ausgabe 5/2017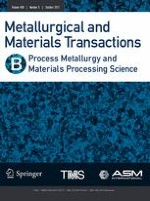 Numerical Study on the Effect of Electrode Polarity on Desulfurization in Direct Current Electroslag Remelting Process
Zeitschrift:
Autoren:

Qiang Wang, Yu Liu, Fang Wang, Guangqiang Li, Baokuan Li, Wenwei Qiao
Wichtige Hinweise
Manuscript submitted November 16, 2016.
Abstract
In order to clarify the influence of electrode polarity on desulfurization in direct current (DC) electroslag remelting process, a transient three-dimensional coupled mathematical model has been established. The finite volume method was invoked to simultaneously solve the mass, momentum, energy, and species conservation equations. The Joule heating and Lorentz force were fully coupled through calculating Maxwell's equations with the assistance of the magnetic potential vector. The motion of the metal-slag interface was described by using the volume of fluid approach. An auxiliary metallurgical kinetics module was introduced to determine the thermochemical and the electrochemical reaction rates. A reasonable agreement between the measured data and the simulated results are observed. A longer time and a larger area for the desulfurization can be provided by the metal pool-slag interface when compared with the metal droplet-slag interface. The electrochemical transfer rate at the metal pool-slag interface is positive in the DC reverse polarity (DCRP) remelting, while in the DC straight polarity (DCSP) remelting, the electrochemical transfer rate is negative at this interface. The desulfurization progress in the DCSP remelting thus is fall behind that in the DCRP remelting. The desulfurization rate of the DCRP remelting is around 70 pct and the rate of the DCSP remelting is about 40 pct.