2020 | OriginalPaper | Buchkapitel
Nutrient Balance of North-Eastern Poland Lakes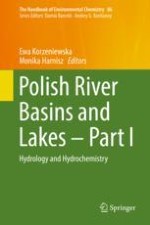 Erstes Kapitel lesen
Autoren: Jolanta Grochowska, Renata Tandyrak, Renata Augustyniak, Michał Łopata, Katarzyna Parszuto
Abstract
In order to determine the nutrient balance two groups of the lakes were selected: ten flow lakes, namely, Mielenko, Karczemne, Klasztorne Małe, Klasztorne Duże, Pasłęk, Wymój, Sarąg, Łęguty, Isąg and Suskie (located in Olsztyn Lake District and Kashubian Lake District), and ten non-flow lakes, namely, Czarne, Długie, Podkówka, Starodworskie, Sukiel, Track, Tyrsko, Kepijko, Paskierz and Podąbek (located in Olsztyn Lake District and in Iławskie Lake District).
The annual phosphorus load introduced into flow lakes ranged from 17.2 kg P (Mielenko) to 7,754.5 kg P (Isąg) and nitrogen from 202.6 kg N (Mielenko) to 81,876.5 kg N (Isąg). Nutrient load was mainly introduced with surface water inflow (46–96%). In the group of flow lakes, Mielenko, Karczemne and Suskie were fed primarily with surface runoff from the basin. The surface watercourses flowing into them were periodic, and the amount of water flowing through them was small. Annual load of phosphorus introduced into non-flow lakes were from 4.4 kg N (Czarne) to 169.8 kg N (Track) and nitrogen from 89.4 kg N (Czarne) to 2,311.8 kg N (Track).
In case of non-flow lakes, the main source of supply was usually the runoff from the direct catchment (from 40% to 97%).
It was found that the majority of flow lakes (except Lakes Isąg and Suskie) showed negative retention in relation to nutrients. Non-flow lakes retain the charge of phosphorus and nitrogen, which is introduced from various sources.