01.07.2011 | Original Article | Ausgabe 5/2011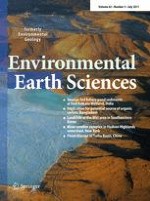 Nutrient dynamics in pore water of tidal marshes near the Yangtze Estuary and Hangzhou Bay, China
Zeitschrift:
Autoren:

W. W. Wang, D. J. Li, J. L. Zhou, L. Gao
Abstract
Tidal marshes act as a buffer system for nutrients in the pore water and play important roles in controlling the budget of nutrients and pollutants that reach the sea. Spatial and seasonal dynamics of pore water nutrients were surveyed in three tidal marshes (Chongming Island, Hengsha Island, and Fengxian tidal flat) near the Yangtze Estuary and Hangzhou Bay from August 2007 to May 2008. Nutrient variations in pore water closely followed seawater quality in the estuaries, while the average concentration of NH
4
+
–N, the main form of inorganic nitrogen in pore water, was over two orders of magnitude higher than that in seawater which was dominated by nitrate. NH
4
+
–N export (13.81 μmol m
−2
h
−1
) was lower than the import of (NO
3
−
+NO
2
−
)–N (−24.17 μmol m
−2
h
−1
) into sediment over the 1-year period, hence reducing N-eutrophication in coastal waters. The export of SiO
3
2−
–Si and PO
4
3−
–P from tidal marshes regulated nutrient level and composition and lifted the ratio beyond potentidal element limitation in the coastal system. Moreover, macrophyte plants (
Spartina alterniflora
and
Phragmites australis
) played significant roles in controlling nutrient concentration in pore water and its exchange between marshes and estuaries. Fengxian marsh was characterized by higher nutrient concentrations and fluxes than other marshes in response to the more serious eutrophication in Hangzhou Bay than in the Yangtze Estuary.