01.01.2015 | ORIGINAL ARTICLE | Ausgabe 1/2015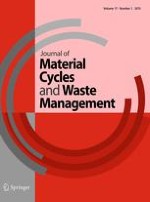 Nutrient recovery from compostable fractions of municipal solid wastes using vermitechnology
Zeitschrift:
Autoren:

Surendra Suthar, Kapil Kumar, Pravin K. Mutiyar
Abstract
Vermicomposting of organic fraction of compostable municipal waste solids (CMWS) spiked with cow dung at ratio 0, 20, 40, 60, 80 and 100 % was done using earthworm
Eisenia fetida
. Pre-composting for 3 weeks followed by vermicomposting caused decrease (fold) in pH (1.06–1.17), organic carbon (1.07–1.36) and C:N ratio (1.60–2.89) and substantial increase (fold) in total N (1.50–2.45), total phosphorous (1.37–1.96), total potassium (1.12–2.09) and trace elements—Ca, Fe, Mn and Zn (1.02–1.32) in waste mixtures. The wastes with 40–60 % fraction of CMWS showed high decomposition and mineralization rate than other treatments. The biomass gain and cocoon production in
E. fetida
were also monitored in all experimental vermibeds. The earthworm showed better growth rate and reproduction pattern in vermibeds with 40–60 % CMWS. The C:N ratio and chemical composition of end product suggested the suitability of vermicomposting technique to recover valuable plant nutrients from negligible community waste solids for sustainable soil fertility management programme.