01.02.2013 | Ausgabe 1/2013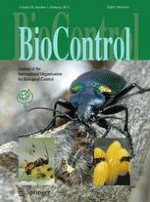 Nutritional state of the pollen beetle parasitoid
Tersilochus heterocerus

foraging in the field
Zeitschrift:
Autoren:

Adrien Rusch, Séverine Suchail, Muriel Valantin-Morison, Jean-Pierre Sarthou, Jean Roger-Estrade
Wichtige Hinweise
Handling Editor: Stefano Colazza
Abstract
Many laboratory studies have demonstrated that parasitoids of various species depend on sugar sources such as nectar or honeydew. However, studies about nectar acquisition by parasitoids foraging in the field are scarce.
Tersilochus heterocerus
Thomson is one of the more abundant and widespread parasitoids of the pollen beetle (
Meligethes aeneus
F.) but nothing is known about the nutritional ecology of this species. In this study we examined the nutritional state of
T. heterocerus
at the time of emergence and at various time periods throughout the season while foraging in the field using high-performance anion-exchange chromatography. We found that: (i)
T. heterocerus
emerge with relatively small amounts of sugar, composed mainly of trehalose, glucose and fructose; (ii) the first parasitoids caught just after they appeared in the field at the beginning of oilseed rape flowering had already consumed significant amounts of sugar reserves; and (iii) the total amount of sugar at the end of flowering was always significantly higher than the total amount of sugar at the beginning of flowering. This study provides valuable insights into the acquisition of sugar in the field by the parasitoid
T. heterocerus
and suggests that nectar acquisition takes place in the oilseed rape field or in the surrounding landscape.