2015 | OriginalPaper | Buchkapitel
8. Nutritional Status of Men and Women in Mumbai: Is There Any Imbalance Across Slums and Non-slums?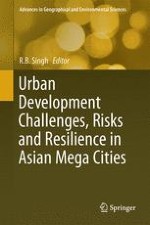 Erstes Kapitel lesen
Autor: Kunal Keshri
Verlag: Springer Japan
Abstract
This article examines the distribution and correlates of nutritional status of men and women in Mumbai, the largest mega city of India. Empirical analyses are based on the Indian National Family Health Survey (2005–2006) dataset. Results highlight the stark division of nutritional status and the consequent dual burden for public health policies to simultaneously manage under and over nutrition in Mumbai mega city. Results show that slightly less than half of men and half of the women population are nutritionally imbalanced. Underweight is a concern for men living in slums. On the other hand overnutrition/obesity among women is much higher in the non-slum areas whereas underweight is key concern in slums. The intensity of income-related inequalities in underweight outcomes is much greater for non-slum areas whereas inequalities in overweight outcomes are higher among slums. The regression analysis confirms that the place of dwelling is not significantly associated with the nutritional status when controlled for other immediate factors. This analysis finds that economic status of household is the main factor affecting the nutritional status. The paper concludes that the existing policies considering slums as the host of all the health related problems needs a critical re-examination. It is confronted that programs and policies can no longer assume that the slums-dwellers are the most vulnerable and there are no health related problems in the non-slums of urban areas. The paper suggests that focus should be on identifying the needs and concerns of specific subgroups of population in both slum as well as non slum areas of Mumbai.