26.11.2019 | LCA COMMUNICATION AND LCA FOR ISO LABELS | Ausgabe 3/2020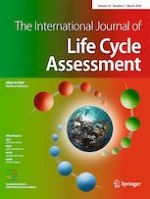 Obsolescence in LCA–methodological challenges and solution approaches
Zeitschrift:
Autoren:

Marina Proske, Matthias Finkbeiner
Wichtige Hinweise
Responsible editor: Chris Yuan
Publisher's note
Springer Nature remains neutral with regard to jurisdictional claims in published maps and institutional affiliations.
Abstract
Purpose
Obsolescence, as premature end of use, increases the overall number of products produced and consumed, and thereby can increase the environmental impact. Measures to decrease the effects of obsolescence by altering the product or service design have the potential to increase use time (defined as the realized active service life) of devices, but can themselves have (environmental) drawbacks, for example, because the amount of material required for production increases. As such, paying special attention to methodological choices when assessing such measures and strategies using life cycle assessment (LCA) needs is crucial.
Methods
Open questions and key aspects of obsolescence, including the analysis of its effects and preventative measures, are discussed against the backdrop of the principles and framework for LCA given in ISO 14040/44, which includes guidance on how to define a useful functional unit and reference flow in the context of real-life use time.
Results and discussion
The open and foundational requirements of ISO 14040/14044 already form an excellent basis for analysis of the phenomenon obsolescence and its environmental impact in product comparisons. However, any analysis presumes clear definition of the goal and scope phase with special attention paid to aspects relevant to obsolescence: the target product and user group needs to be placed into context with the analysed "anti-obsolescence" measures. The reference flow needs to reflect a realized use time (and not solely a technical lifetime when not relevant for the product under study). System boundaries and types of data need to be chosen also in context of the anti-obsolescence measure to include, for example, the production of spare parts to reflect repairable design and/or manufacturer-specific yields to reflect high-quality manufacturing.
Conclusions
Understanding the relevant obsolescence conditions for the product system under study and how these may differ across the market segment or user types is crucial for a fair and useful comparison and the evaluation of anti-obsolescence measures.