2021 | OriginalPaper | Buchkapitel
Obtaining a Fast and Reliable Diagnostic Result of
Acidovorax Citrulli

with the Sample Enrichment Method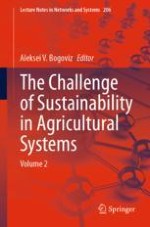 Erstes Kapitel lesen
Autoren: Olga Y. Slovareva, Konstantin P. Kornev, Galina N. Bondarenko
Abstract
The diagnostics of pathogens of bacterial diseases of plants, in particular,
Acidovorax citrulli
, need to develop methods for obtaining fast and reliable results. When used separately, existing diagnostic methods are not sensitive enough to guarantee confidence in the presence or absence of a phytopathogen in a sample. The reliability of the results is achieved by applying a set of methods. This process is marked with high costs of cash, labor, and time resources. Increasing sensitivity is possible using the method of sample enrichment. However, the technique of this procedure for routine diagnostics is not described. The purpose of this study is to develop a method for enriching a sample of cucurbit crops for the diagnosis of
Acidovorax citrulli
. The paper presents the results of artificial inoculation of plants and parts of the fruits of cucurbit crops with a suspension containing the target bacteria in viable and non-viable states in known concentrations. During the study, an incubation step was carried out, followed by an assessment of the change in the concentration of phytopathogen cells in plant tissues. The number of copies of the target bacterial cells in the sample was determined by counting colonies of
Acidovorax citrulli
on an agarized nutrient medium, as well as using real-time polymerase chain reaction analysis (PCR-RA). As a result of the study, the authors developed a sample enrichment method that will allow obtaining reliable data for the detection of
Acidovorax citrulli
rather quickly and economically.