2010 | OriginalPaper | Buchkapitel
7. Occurrence and Measurements of Organic Xenobiotic Compounds in Harbour and Coastal Sediments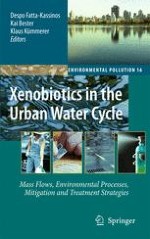 Erstes Kapitel lesen
Autoren: Giusy Lofrano, Anastasia Nikolaou, Maria Kostopoulou, Giovanni Pagano, Vincenzo Belgiorno, Rodolfo Maria Alessandro Napoli
Verlag: Springer Netherlands
Abstract
The present chapter focuses on the identification of sources and fluxes of xenobiotic compounds in marine sediments to set strategies for minimizing impacts on the human life and environment. It is generally accepted that sediments constitute a sink for the more hydrophobic compounds, posing an unacceptable risk to aquatic biota, in which these compounds can bioaccumulate, and to human health through the ingestion of contaminated fish and shellfish.
Information is provided on the organic xenobiotics most frequently occurring in marine sediments, namely, polycyclic aromatic hydrocarbons (PAHs), surfactants, halogenated compounds, organotin compounds and pharmaceuticals. The development and optimization of analytical methods for the determination of those priority substances in marine sediments are discussed. Substantial improvements have been achieved in analysis performance towards optimal resolution of analytes, for example detection limits, and clean-up of environmental samples to detect low-level xenobiotics in complex mixtures such as the marine sediments.
Thus, this chapter aims at identifying the main challenges related to organic xenobiotics in marine sediments, underlying also existing gaps in legislation.