2014 | OriginalPaper | Buchkapitel
22.
Octopus minor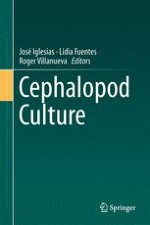 Erstes Kapitel lesen
Autoren: Xiao-Dong Zheng, Yao-Sen Qian, Chang Liu, Qi Li
Verlag: Springer Netherlands
Abstract
Octopus minor
(Sasaki 1920) is widely distributed along the coastal waters of China, Korean Peninsula, as well as south of Sakhalien to Japan. As an important economic cephalopod, culture of
O. minor
has been attempted in recent years. After capture and broodstock acclimatization to captivity, spawning induction and mating, eggs are spawned at the artificial substratum. Females are responsible for protecting the eggs. The embryonic development lasts for 72–89 days before hatching under the conditions of a seawater temperature of 21–25 °C and a salinity of 28–31 psu. The mantle length and total length of new hatchlings range from 8.5 to 11.5 mm and from 25 to 31 mm, respectively. Hatchlings are benthic, going directly to the tank bottom. Two different types of shelters are provided for this species: ceramic pots of 8–12 mm inner diameter or 10-mm-diameter polyvinyl chloride (PVC) tubes. Cladocerans, copepods and enriched
Artemia
nauplii are adequate initial feeds for the hatchling rearing.
Hemigrapsus sanguineus
of less than 4 mm body width are also used to feed 10-day-old hatchlings. Using these prey, the survival rate is 75 % after 1 month of culture. After that, a mixed fresh diet such as juvenile crab, shellfish and shrimp becomes the main feed. After 6–7 months of culture indoors, juveniles of about 100 g can be considered as commercial specification, and they are then transferred to outdoor ponds to continue the ongrowing process, or to be released to the sea for stocking or enhancement programmes. Under indoor culture conditions, the average weights of males and females at 250 days are 122.9 and 197.1 g, respectively.