2013 | OriginalPaper | Buchkapitel
17. Oil and Gas Development and Opportunities in the Arctic Ocean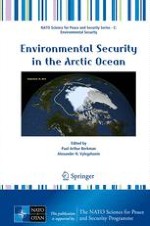 Erstes Kapitel lesen
Autor: Robert J. Blaauw
Verlag: Springer Netherlands
Abstract
The first Arctic onshore oil well was drilled in Canada in 1920 and the first offshore well was drilled in Alaska in 1963. Large Arctic onshore operations started in the 1970s in Alaska and Russia. Offshore production from the sub-arctic region started much more recently. Currently, the Arctic produces about 10% of the world's oil and 25% of its gas, of which the majority is produced in the Russian Arctic onshore. The United States Geological Survey (2008. Circum-Arctic resource appraisal: estimates of undiscovered oil and gas north of the Arctic Circle.
http://​pubs.​usgs.​gov/​fs/​2008/​3049/​fs2008-3049.​pdf
. Accessed 20 Aug 2011) estimated that the Arctic contains 13% of the world's 'yet to find' oil, 30% of the world's 'yet to find' gas, and 20% of world's 'yet to find' natural gas liquids. About 84% of these estimated resources are believed to lie offshore. Overall hydrocarbon resources in the Arctic are equivalent to some 10 years of total global oil and gas demand at current consumption rates. Developed responsibly, they will help provide secure energy for the world as the time of 'easy oil' comes to an end. This article aims to present an overview on Shell's perspectives on upstream oil and gas exploration and development and related issues in the Arctic Ocean.