01.03.2015 | Literature survey | Ausgabe 3-4/2015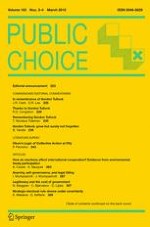 Olson's
Logic of Collective Action

at fifty
Zeitschrift:
Autor:

Paul Pecorino
Abstract
In the 50 years since its publication, Mancur Olson's
Logic of Collective Action
has had an enormous impact on the academic literature in both economics and political science. In this review essay, I discuss Olson's work in light of the ensuing research, particularly developments in the theoretical literature. Much of the discussion focuses on the group-size paradox as applied to politics, i.e., the extent to which the group-size paradox can explain why the interests of some groups are better represented in the political process than others. I also discuss selective incentives with an emphasis on the byproduct mechanism under which a firm sells a private good and uses the resulting profits to provide a public good.