01.06.2015 | Ausgabe 1/2015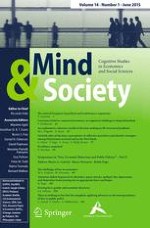 On both sides of the fence: perceptions of collective narratives and identity strategies among Palestinians in Israel and in the West Bank
Zeitschrift:
Autoren:

Adi Mana, Shifra Sagy, Anan Srour, Serene Mjally-Knani
Wichtige Hinweise
This study is part of a larger trilateral project: "Belonging to the Outsider and Established Groupings: Palestinians and Israelis in Various Figurations" funded by the German Research Foundation.
Abstract
This field study aims to explore the effect of the forced separation between Palestinians who are Israeli citizens and Palestinians living in the West Bank on their perceptions of collective narratives (Sagy et al. in Am J Orthopsychiatry 72(1): 26–38,
2002
) and their identity strategies (Berry in Nebraska symposium on motivation, University of Nebraska Press, Lincoln,
1990
; Tajfel in Human groups and social categories, Cambridge University Press, Cambridge,
1981
). Two questionnaires, based on the theoretical categories and contents revealed in focus groups, were administered to wide ranging samples, comprised of 1,104 Palestinians who are Israeli citizens (622 females), and 948 Palestinians (466 females) living in the West Bank, aged 18 and up. The results indicate differences between the two Palestinian groups: Palestinians living in the West Bank significantly tended to endorse integration and blamed Israel for the separation, but also endorsed separation and social competition with the other Palestinian group, in comparison to the Palestinians living in Israel. The latter exhibited stronger tendencies to preserve their in-group collective narratives compared to the West Bank Palestinians. The older members of both groups perceived the intergroup relations in a more positive way. The results are mainly interpreted according to the social identity theory and the complex situation of living "on both sides of the fence".