01.09.2012 | Ausgabe 3/2012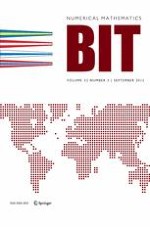 On energy preserving consistent boundary conditions for the Yee scheme in 2D
Zeitschrift:
Autoren:

B. Engquist, J. Häggblad, O. Runborg
Wichtige Hinweise
Communicated by Jan Hesthaven.
Engquist's research was partially supported by the NSF grants DMS-0714612 and DMS-1016577. Häggblad's research was supported by the CIAM project of the Swedish Foundation for Strategic Research. Runborg's research was partially supported by Swedish e-Science Research Center.
Abstract
The Yee scheme is one of the most popular methods for electromagnetic wave propagation. A main advantage is the structured staggered grid, making it simple and efficient on modern computer architectures. A downside to this is the difficulty in approximating oblique boundaries, having to resort to staircase approximations.
In this paper we present a method to improve the boundary treatment in two dimensions by, starting from a staircase approximation, modifying the coefficients of the update stencil so that we can obtain a consistent approximation while preserving the energy conservation, structure and the optimal CFL-condition of the original Yee scheme. We prove this in
L
2
and verify it by numerical experiments.