01.09.2014 | Ausgabe 9/2014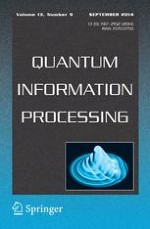 On implementing nondestructive triplet Toffoli gate with entanglement swapping operations via the GHZ state analysis
Zeitschrift:
Autoren:

Ying Guo, Zhisheng Zhao, Yijun Wang, Ping Wang, Dazu Huang, Moon Ho Lee
Wichtige Hinweise
This work was supported by the National Natural Science Foundation of China (61272495, 61379153), the New Century Excellent Talents in University, China (NCET-11-0510).
Abstract
We investigate an novel implementation of a Toffoli gate using multiple independent auxiliary photons prepared beforehand in single-qubit states. This gate can be performed nondestructively with entanglement swapping via the Greenberger–Horne–Zeilinger state analysis. We evaluate the performance of the proposed Toffoli gate with the fidelity based on different computation bases. The multi-qubit-entanglement gate is no longer theoretical since it can be implemented in principle with single-qubit photons.