2006 | OriginalPaper | Buchkapitel
On Post-Buckling Analysis and Experimental Correlation of Cylindrical Composite Shells with Reissner-Mindlin-Von Kármán Type Facet Model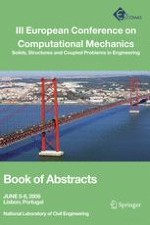 Erstes Kapitel lesen
Autoren: Petri Kere, Mikko Lyly
Verlag: Springer Netherlands
Designing composite structures involving geometric nonlinearities is often very time-consuming with so-called high-fidelity models, which in some cases severely limits the application of these methods. However, to get realistic solutions as a result of the design optimization process, use of the high-fidelity analysis is necessary. With the computationally efficient nonlinear analysis, realization of local failure prediction and imperfection sensitivity analysis of shells is possible.
For thin laminate structures the buckling load is low and there is a long postbuckling behavior, which illustrates well the importance of being able to design shells in the postbuckling region to take advantage of the load carrying capability. In this study, post-buckling analysis and experimental correlation of cylindrical carbon fibre reinforced plastic (CFRP) shells is considered. Modeling the shell structure is based on a facet approximation of the undeformed mid-surface for a thin or moderately thick laminated composite shell. The potential energy functional where the linearized strain tensor has been replaced by the nonlinear functions, i.e., the Von Kármán model for large deformation was formulated [
1
]. The kinematical unknowns are determined from the condition that they minimize the potential energy of the shell. In the computations we solve these nonlinear equations iteratively by Riks' method with Crisfield's constraint for arc-length. The linearized equations are then discretized by the finite element method. In the FE implementation we use bilinear stabilized MITC elements.
A computational model is based on specimens that were used in experimental tests [
2
]. The numerical results are compared to the experimental observations. Results show that use of the geometric perfect shell model causes a discrepancy between numerically predicted and experimentally observed buckling and post-buckling behavior. However, bringing a diamond shape geometric imperfection in the model significantly improves the correlation. Our aim is to find imperfection shape and amplitude suitable for use in structural optimization such that the computational time remains reasonable still offering accurate results for post-processing results like local failure prediction of composite.