12.11.2015 | Foundations | Ausgabe 7/2016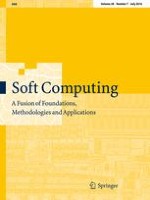 On pseudo-fractional integral inequalities related to Hermite–Hadamard type
Zeitschrift:
Autoren:

Maryam Hosseini, Azizollah Babakhani, Hamzeh Agahi, Sayyed Hashem Rasouli
Wichtige Hinweise
Communicated by A. Di Nola.
Abstract
General versions of Hermite–Hadamard type inequality for pseudo-fractional integrals of the order
\(\alpha >0\)
on a semiring
\(\left( \left[ a,b\right] ,\oplus ,\odot \right) \)
are studied. These inequalities include both pseudo-integral and fractional integral. The well-known previous results are shown to be special cases of our results. Finally, two open problems for further investigations are given.