01.08.2016 | Original Article | Ausgabe 5/2016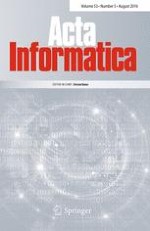 On reversible Turing machines and their function universality
Zeitschrift:
Autoren:

Holger Bock Axelsen, Robert Glück
Wichtige Hinweise
Revised and extended version of the conference papers [
4
,
5
]. This research was partially supported by Danish Council for Strategic Research under the
MicroPower
project and the Danish Council for Independent Research | Natural Sciences under the
Foundations of Reversible Computing
project; the second author was partially supported by the Japan Society for the Promotion of Science. The authors acknowledge partial support from COST Action IC1405
Reversible Computation
.
Abstract
We provide a treatment of the reversible Turing machines (RTMs) under a strict function semantics. Unlike many existing reversible computation models, we distinguish strictly between computing the function
\(\lambda x.f(x)\)
and computing the function
\(\lambda x. (x, f(x))\)
, or other injective embeddings of
f
. We reinterpret and adapt a number of important foundational reversible computing results under this semantics. Unifying the results in a single model shows that, as expected (and previously claimed), the RTMs are robust and can compute exactly all injective computable functions. Because injectivity entails that the RTMs are not strictly Turing-complete w.r.t. functions, we use an appropriate alternative universality definition, and show how to derive universal RTMs (URTMs) from existing irreversible universal machines. We then proceed to construct a URTM from the ground up. This resulting machine is the first URTM which does not depend on a reversible simulation of an existing universal machine. The new construction has the advantage that the interpretive overhead of the URTM is limited to a (program dependent) constant factor. Another novelty is that the URTM can function as an inverse interpreter at no asymptotic cost.