2012 | OriginalPaper | Buchkapitel
29. On Some Issues of the Anthropogenic Transformation of Water Ecosystems (Case Study of Lake Sevan)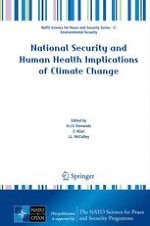 Erstes Kapitel lesen
Autor: Trahel Vardanian
Verlag: Springer Netherlands
Jetzt einloggen
Abstract
This paper discusses the influence of economic development in the basin of Lake Sevan. It shows that the decrease of lake's water level has led to changes in the hydrological regime. The development in the basin has caused disruption of thermal and hydro-chemical regimes of the lake, deteriorating the water quality and increasing the water turbidity. The circulation of biological and chemical species has changed as well.
Studies of the chemical composition of the water were launched at the end of the nineteenth century, and the first salt balance was determined in the 1930s. According to routine observations, 1 l of the lake's water contains about 0.7 g salt in ionic form, which has changed by about 5–10% as a result of the decrease of water level. There have been changes in the general mineralization that are related to the decrease of the water level and the magnitude of its flow.
In 1928–1930, well before artificial changes to the lake's water level were realized, the total mineralization was 718.4 mg/l, while today it is 673 mg/l (1999–2002). The decrease of total general mineralization of lake water is strongly related to the massive outflow of salty water, which removed salts that have been accumulating in the lake for centuries.
The studies of separate components of Lake Sevan balance show that under conditions of the global climate warming, evaporation from the lake's surface may reach up to 145 × 10
6
m
3
/annum. Averaging of the consequences of possible climate change on river runoff points at the possible decrease of water resources of the lake's basin by
−
2.51% by the end of the first half of the twenty-first century.
It is hard to predict the future developments of these processes. However, the issue of Lake Sevan is not entirely settled as the ecosystem of the lake is damaged and is undergoing the process of eutrophication. The flora and fauna of the water and coast have undergone serious and irreversible changes.